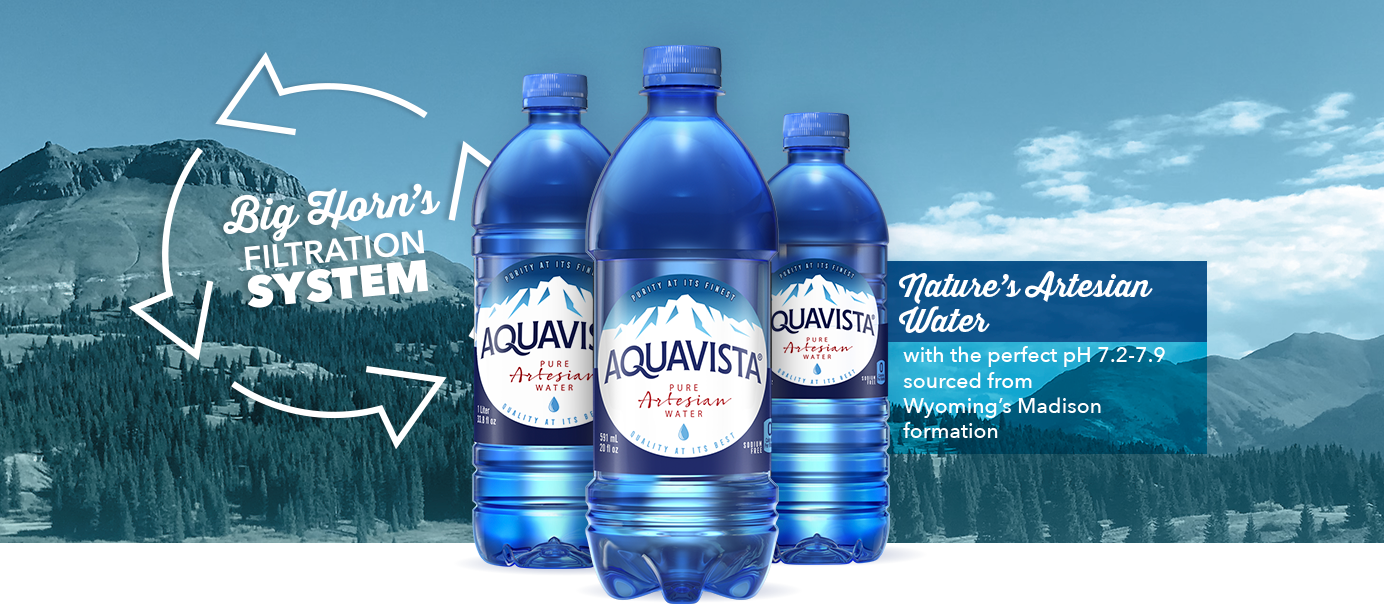 a unique artesian water
In 1979, Husky Oil discovered an abundant source of drinking water in the Madison Aquifer. The artesian well produce over 5 million gallons per day at a wellhead pressure from 140 psi to 210 psi and is the source of Aquavista today.

WHAT IS NATURAL ARTESIAN WATER?
Artesian water comes from an aquifer; a naturally formed underground chamber consisting of layers of permeable volcanic rock that bears water, that is overlain by protective rock that limits the entry of contaminates into the confined aquifer and pressurizes the chamber. In order to access the water, the rock barrier must be penetrated by a borehole to create a well.
FROM START TO FINISH
Aquavista's source is an aquifer located deep in the Big Horn range of the Rocky Mountains. The aquifer is a part of the Madison Formation running 4,700 feet beneath the surface.
The aquifer supplies one of the world's largest artesian wells and is the source for this amazing water.
Aquavista is transported via semi water truck from the well site in Manderson, Wyoming into the production facility holding tank.  Once it is in the holding tank it runs through two micron filters and goes into the Filler Machine where it is bottled and labeled for the consumer. 
Testimonies
"I live in California, but I recently bought Aquavista water in Wyoming and South Dakota when we were traveling, and I was wondering if I could get this in California because we really love it!"
~David B.
"Just wanted to let you folks know that I've tried bottled water all over the world and none compares to yours.  As a Wyoming native I may be considered some what prejudiced but I assure you I am not.  Tons of thanks."
~Rusty R.
"I had your water while in Keystone SD. Best water ever. Can I get it in Ohio? Thank you."
~John P.